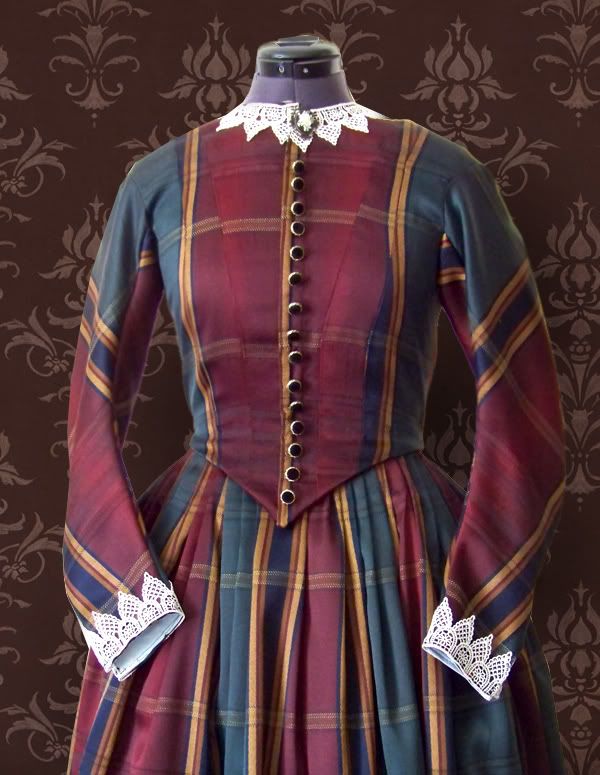 This beautiful day dress is perfect for Holiday and Seasonal reenactment and fair events. Made of medium weight jacquard, the gown is meticulously constructed, with excellent interior bodice finishing, and attention to detail.

Read more about this gown, or to view the listing on Etsy, CLICK HERE


This gown is washable! It has been worn, loved, cleaned, and refurbished.

It is suggested that this costume be worn with period underpinnings - a Victorian corset and hoop skirt or full petticoats.

The bodice closes at front with hooks and eyes, with an overlap that snaps securely closed. False-front buttons with velvet detailing run down the front, and a lovely little cameo is stitched on at the neck closure.

The skirt closes at center back with a hook and bar closure. The bodice hooks to the skirt, to keep everything perfectly in place.

Measurements:
bust: 32"-35"
waist: 26" - 29"
No hip measurement necessary.
height: 5'6" or taller - skirt length will depend on size of petticoats or hoops being worn

Again, it is strongly suggested that the costume be worn with proper underpinnings, so when determining your size, take measurements with your corset on.



This gown is exquisitely made and easy to wear! It is durable, washable, and will last you for years.